7th Heaven Live at Basecamp!
---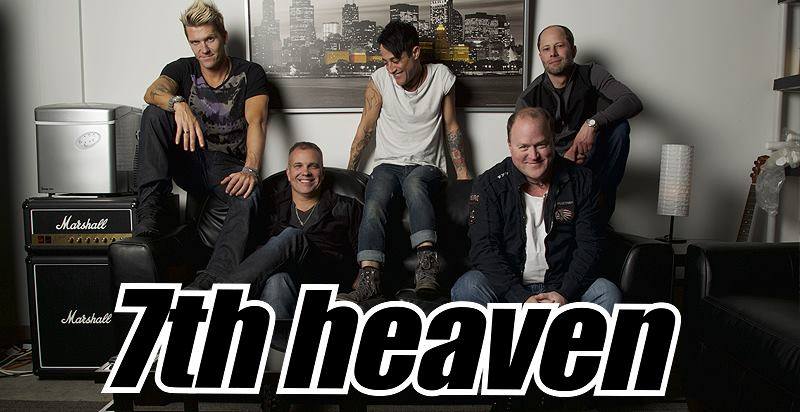 Map Unavailable
Date/Time
Date(s) - 11/16/2018 - 11/17/2018
8:00 pm - 2:00 am
Location
Base Camp Pub
Categories
BaseCamp Pub & Eatery & The Afterlife Alt Series Present:
" 7th heaven Live at Basecamp "
** For table reservations email basecampmarketing1@gmail.com **
What more is there to say? 7th Heaven sells out our room every time! Their high energy show and amazing musical skill is not a sight to miss! Boasting a number of different billboard charting singles 7th Heaven puts on a show combining original music with your favorite radio hits!
** For Table Reservations: basecampmarketing1@gmail.com **
** Tickets: https://www.ticketweb.com/event/7th-heaven-live-basecamp-pub-tickets/8805475 **
7th heaven:
Biography
• Current song "Stoplight" is currently on radio stations in the midwest
• Hit song "Sing" was #1 in Chicago Billboard charts for numerous weeks
• "Pop Media" CD was #1 in Chicago for 12 weeks and #11 on the national charts
• Charted #1 in the Midwest Region on the Billboard Charts – Sept 2011
• June 2014 – Released "Spectrum" original CD – 20 songs
• June 2013 – Released original CD "Synergy"
• July 2011- Released a new all-original CD of 22 songs called "Pop Media"
• Charted #1 on the Billboards Charts (Heetseekers) with 2 releases in 2010
• Reached #46 on the Billboard Charts (Top Pop Catalog) with USA-UK in 2010
• Performed at Soldier Field with Bon Jovi in 2010
• Voted #1 in Our Stage contest to open for Bon Jovi in 2010
• Voted #1 in Eventful contest to open for KISS in 2010
• Seen all over TV in 2010 – ABC, NBC, FOX and WGN
• Worldwide Press in 2010 – USA Today, Chicago Sun Times, Chicago Tribune, LA Times
• Charted song "Better This Way" #2 in Chicago Markets on six major radio stations
• Broke record at 101.9 WTMX in Chicago for most calls to station at one time
• Released "Jukebox" in 2010 – a 700 all-original song boxset
• Released "U.S.A. – U.K." CD August 2008
• Wrote & Performed TV/Radio Commercial for "Empress Casino"
• Wrote & Performed TV Commercial for "Walter E Smithe / Chicago Cubs"
• Performed the National Anthem at the Chicago Bulls / LA Lakers NBA Game – Seen on Worldwide TV
• Featured in Guitar Edge Magazine July/Aug 2006
• 7th heaven's music featured on MTV in 2000 – 2005
• Currently on full rotation on many FM radio stations worldwide
• Performed on the Jenny Jones Show (over 75 Million viewers worldwide)
• 7th heaven's music was featured on the Discovery Channel in 2002
• Sold over 75,000 CD's to date
• Averages 250+ shows a year
• One of the highest grossing Indie bands
• Website receives an average of 100,000 hits a day (www.7thheavenband.com)
• Performed on 'Mancows Morning Madhouse' to over 1 million listeners
• Have written/recorded over 4,000 recorded songs to date
• Pack venues across the Midwest Region of the U.S.
• Mailing list contains over 50,000 people worldwide
• Consistently sells merchandise at shows (CD's & Shirts)
• Appeared in numerous local magazines and featured articles
• Bars/venues consistently beat average gross income/night when 7th heaven plays
• Seasoned artists who have performed with many Major Label artists
• Extremely high-energy live shows
• Six songs placed in the film "Lizzy"
• One song placed in the film "Light Years Away"
• Averages 100 festivals per year
• Endorsed by many major musical instrument manufacturers
• Voted Best Band in Chicago thru BarStar
• Released "Live at Durty Nellies" CD/DVD in 2005
• One of a few bands to play in 6 markets (Festival, Club, College, Original, Corporate & Unplugged)
• Started in 1985