First Annual 90s Palooza
---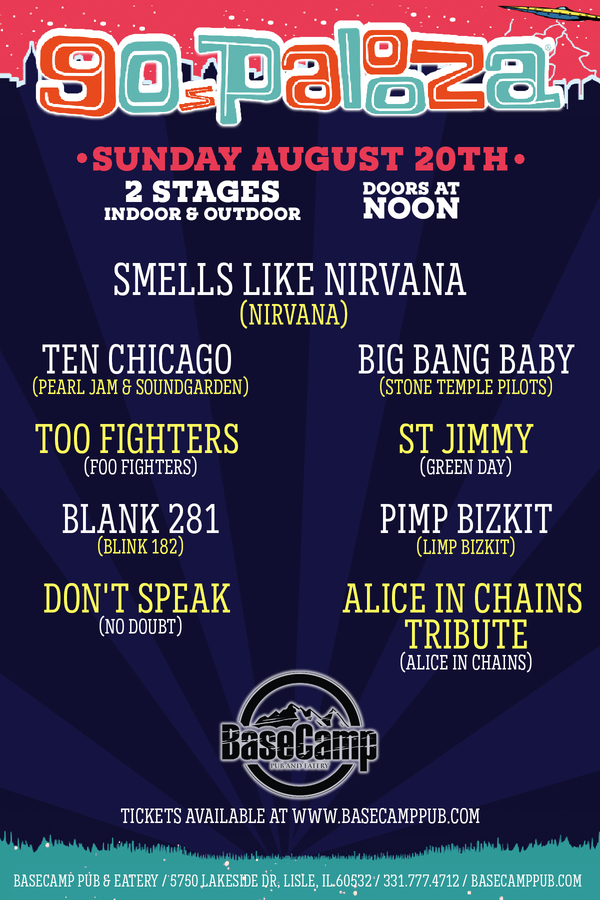 Date/Time
Date(s) - 08/20/2017
12:00 pm - 11:00 pm
Location
BaseCamp Pub
Categories
Who didn't love the 90's? Talk about a decade that gave birth to so many amazing bands and revolutionary sound/styles of music, creative dance moves and not so fashionable styles – or was it?!
With that being said we are pleased to announce BaseCamp Pub & Eatery first annual 90's Palooza! Please join us for an all day mini festival featuring 2 stages 9 tribute bands from the 90's era. This day is about all things 90's! You do not want to miss this event!
** Email basecampmarketing1@gmail.com for additional information or press related questions **
** Any art or fashion vendors looking to set up a Booth? Let us know we have vending space available **
LINK: https://www.facebook.com/events/467329860310670/
TICKETS: http://www.ticketweb.com/event/first-annual-90s-palooza-basecamp-pub-tickets/7552115
Doors open at 12, All Ages Event
Outside Stage ::: 
2:00pm – 3:00pm Alice in Chains Tribute (Alice in Chains)
3:30pm – 4:30pm BIG BANG BABY – Stone Temple Pilots Tribute Chicago (Stone Temple Pilots)
5:00pm – 6:00pm Too Fighters (Foo Fighters)
6:30pm – 7:30pm Blink 182 Tribute Band: Blank 281 (blink-182)
Inside Stage :::
3:00pm – 4:00pm Pimp Bizkit (Limp Bizkit)
4:30pm – 5:30pm St. Jimmy : A Green Day Tribute (Green Day)
6:00pm – 7:00pm Don't Speak : A No Doubt Tribute (No Doubt)
7:30pm – 8:30pm Smells Like Nirvana (Nirvana)
9:00pm – 10:00pm Ten Chicago (A tribute to Pearl Jam and Soundgarden)
Activities::: (( Prizes and Giveaways))
1:00 pm – 1:30 pm Channel your Inner Fresh Prince! Carlton Dance Off by the Outside Stage!
8:00 pm – 8:30 pm Bump, Bump, Bump Now let me see that Tootsee Roll!
Can you master the Hammer Dance, what about the Tootsee Roll!? Contest by the Inside Stage!
8:30 pm – 9:00 pm Grab some scrunchies, neon colors, dust off those flannels and rock those denims! Ultimate 90's Costume Contest by the Inside Stage!
Party on, Dudes!