Beer Pong Tournament of Champions
---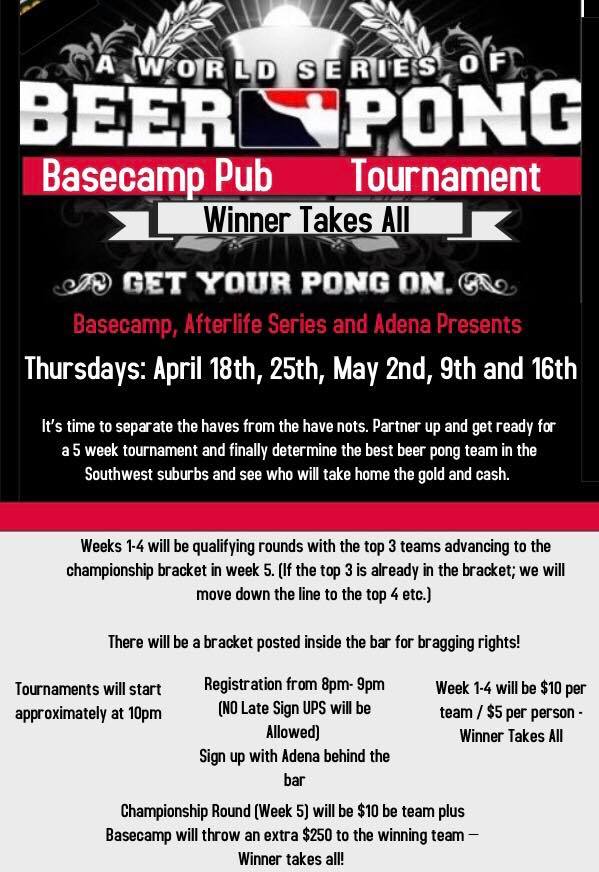 Map Unavailable
Date/Time
Date(s) - 04/18/2019
8:00 pm
Location
Base Camp Pub
Categories
Basecamp, Afterlife Series and Adena Presents The World Series of Beer Pong !
What makes a champion? Skill, composure, attitude, and a full Beer always helps.
It's time to separate the haves from the have nots. Partner up and get ready for a 5 week tournament and finally determine the best beer pong team in the Southwest suburbs and see who will take home the gold and cash.
Weeks 1-4 will be qualifying rounds with the top 3 teams advancing to the championship bracket in week 5. (If the top 3 is already in the bracket; we will move down the line to the top 4 etc.)
There will be a bracket posted inside the bar for bragging rights!
All games will be single elimination so bring your A game. House rules apply and make sure you understand them prior to competition.
Week 1-4 will be $10 per team- Winner takes all
Championship Round (Week 5) will be $10 per team plus Basecamp will throw an extra $250 to the winning team — Winner takes all!
House Rules ::
– 2 reracks per game
– No blowing, or fingering
– No Island
– No bounce
– Heating/ On Fire Applies
– Rebuttals Apply (battle of 3 cups- bozo)
– Balls back if both teammates make it
– Elbows
– Celebrity Shot (on table recovery)
– No same cup (wait for your cup to be pulled before the next shot)
Each week Sign up will be between 8pm and 9pm with Adena behind the bar. (NO LATE SIGN UPS WILL BE ALLOWED!)
Games will start at Approximately 10pm.
— There is no substitution Allowed —
Specials All Night
– $1.75 Bud Light Drafts
– $4.00 El Jimador
– $5.00 Smirnoff Bombs
Happy Hour (5-7pm)
– $2.00 All Domestics
– $3.00 Smirnoff, Crown Royal, Captain White