Kentucky Derby Watch Party – with In the Stix
---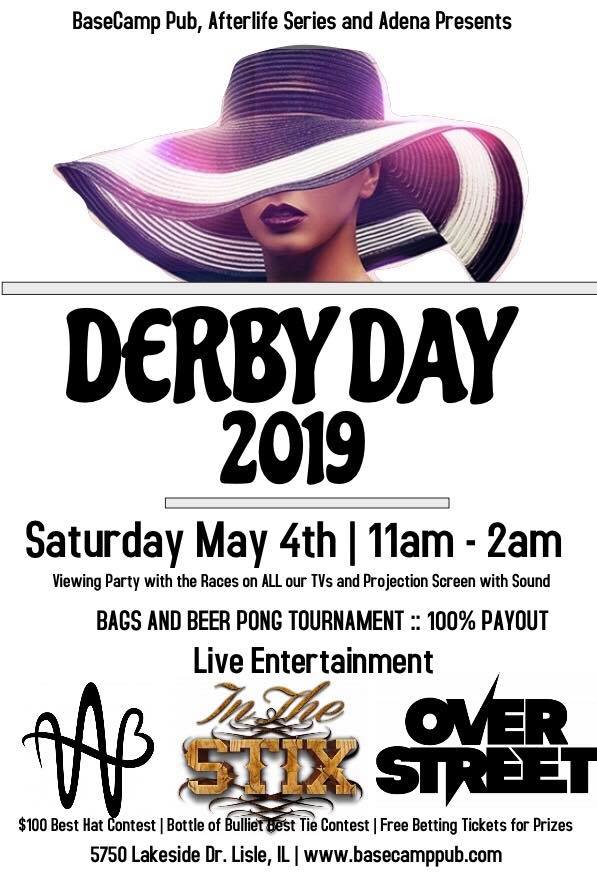 Map Unavailable
Date/Time
Date(s) - 05/04/2019
11:00 am
Location
Base Camp Pub
Categories
Adena Presents , Afterlife Series and Basecamp Pub is going all out for its first ever Kentucky Derby Watch Party!
Fancy suits, bow ties, big hats and fast horses…
Join us DERBY DAY; May 4th, Saturday to watch the annual running on all of our TVs and projection screen with our state of the art sound system
Whether you're betting on Mucho Gusto or just looking for a quality mint julep, the "greatest two minutes in sports" is upon us! Party starts promptly at 11am!
Derby attire is high suggested!
General Admission is only $10 and Includes:
-Access into Basecamp all day and night for the Finest Derby Watch Party with live entertainment
-A drink ticket to sample our Premium Mint Julep (from 11am – 6pm)
-5 Betting Tickets for Prizes and Fun (from 11am – 6pm)
SPECIALS AND CONTEST GIVEAWAYS:
– $3 Bud Light Drafts
– $4 Beer of the Month
– $5 Smirnoff Bombs
– $8 Bulleit Mint Juleps
– $15 Bulleit Mint Juleps in Authentic Julep Cup
– $25 all you can drink Champagne or Shock Top from 11am-2pm
…..
… plus …
💲100 💲 Cash Prize for
– The Best Hat Contest presented by Basecamp. Contest to be held inside by the main stage at 6pm. Hosted By Nicole Szwed
– The Best Bow Tie wins a bottle of Bulleit (to be collected at the end of the night) sponsored by BreakThru to be held inside by the main stage at 6pm. Hosted by Nicole Szwed
And that's not it!!
This party can also be enjoyed on our back patio where you can play in our bags and beer pong tournament!
GAMES // TOURNAMENTS:
Bags tournament start at 1pm. Sign up is between 11am and 12. $25 per team. 100% payout to top 3 teams. (1st- 60% 2nd – 30% 3rd – 10%) sign up with Elena Sullivan
Beer pong tournament starts at 3pm. Sign up between 11am and 2pm. $10 per team. Single Elimination. Winner takes All. Sign up with Adena Kartheiser
BETTING TICKET GIVEAWAYS:
(Each guest will get 5 betting tickets included in the cover at the door. Rules will be given out with each ticket to explain how to enter into each race)
Starting with Race 5 – 12:35pm Prizes :: Win -$10 Gift Card
Race 6 – 1:13pm Prizes :: Win – free Juleps drink
Race 7 – 1:55pm Prizes :: Win – free Tequila shot
Race 8 – 2:45pm Prizes :: Win – $10 Gift Card
Race 9 – 3:37pm Prizes :: Win – free Juleps drink
Race 10 – 4:28pm Prizes :: Win – free Tequila shot
Race 11 – 5:25pm Prizes :: (Old Forester Turf Classic) Win – $20 Cash
Race 12 – 6:50pm Prizes :: Woodford Reserve Race) Win- $20 Gift Card – Place free Juleps drink – Show free Tequila shot
Race 13 – 7:50pm Prizes :: Win – free Juleps drink
Race 14 – 8:20pm :: Prizes Win – $10 Gift Card
LIVE ENTERTAINMENT
DJs : Overstreet – playing some of your favorite sing along songs in between races to get the party grooving on the outside patio!
Aaron Williams – Acoustic Set: will open up on our inside stage at 9pm.
http://www.aaronwilliamsmusic.com
In the Stix will close out the night from 10:30-12:30am. Chicago's hottest Country Band. Rockin' Modern Country At it's Best!
Matt Boone – Lead Vocals
Mike Menola – Bass and Vocals
Travis Griffin – Lead Guitar
Ben Weaver – Drums
See you there!