Too White Crew Live at Basecamp!
---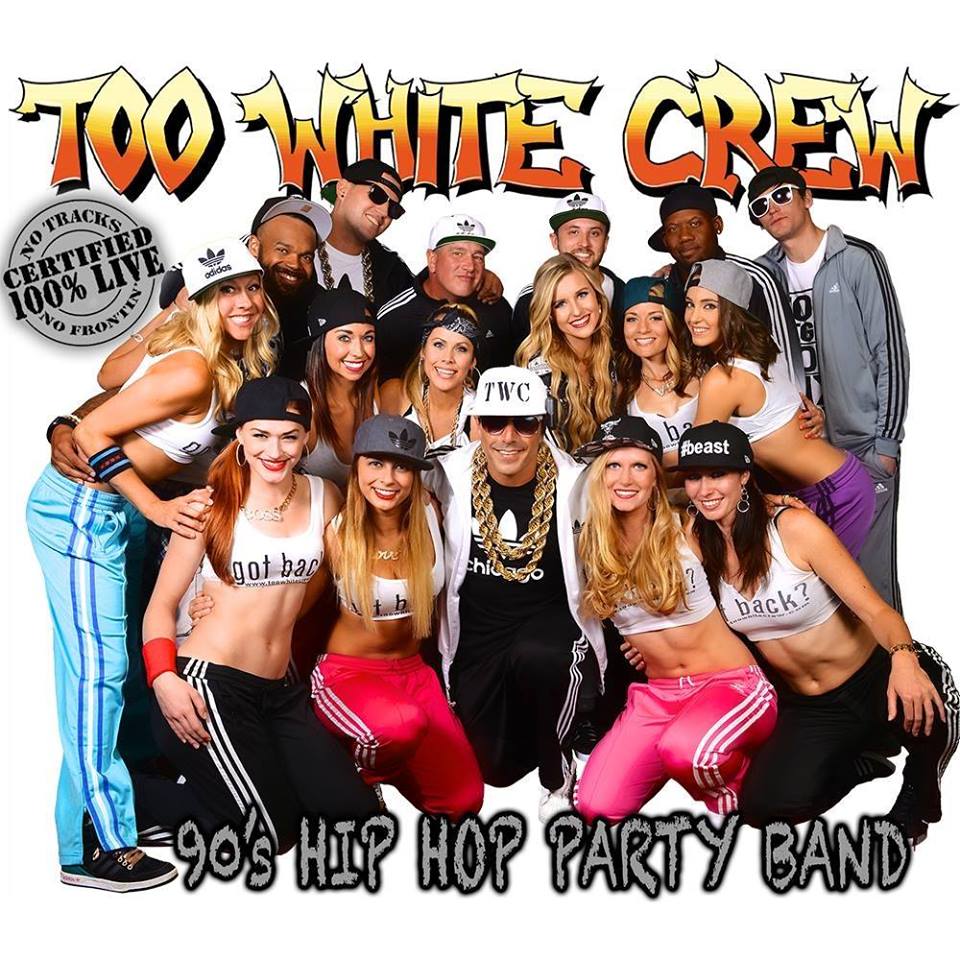 Map Unavailable
Date/Time
Date(s) - 12/07/2018 - 12/08/2018
8:00 pm - 2:00 am
Location
Base Camp Pub
Categories
BaseCamp Pub & Eatery & The Afterlife Alt Series Present:
" Too White Crew Live at Basecamp "
** Email Basecampmarketing1@gmail.com for table reservations **
** Tickets: https://www.ticketweb.com/event/too-white-crew-live-at-basecamp-pub-tickets/8808885 **
Too White Crew always brings the party to us when the take over the stage! This show will be no different! Grab you skis and hit the hill out front first & Join us inside for the concert after! Let's rock!
Too White Crew:
Genre
Hip hop party anthems — and it's awwwl live beeotches!
Band Members
BAND MEMBERS:
C-note – Lead vocs, keys,
Woodsy Fresh – Drums & vocs,
DJ Shor "T" – Turntables & keys & vocs & percussion,
Elle Hoodz – Keys & vocs & percussion,
Cornbread – Guitar & Bass & Sax & vocs,
Sam Onnit – Bass & guitar & vocs,
P.Tugz – Mouth Turntables & keys & vocs & percussion
Da Legend – dancer, rapper, photog and ambassador of good will
FLY GIRLS:
Juicebox,
Hot Wheelz,
Lemon Drop,
KitKat,
Backstop,
Red Hot,
West Side,
High-Top
U.F.O.
Hometown
Chicago
Record Label
"Death Row is the label that paaaaays me."
About
Creep our Tour Dates tab for our shows! Check for age restrictions — we have shows that are G-rated and shows that are rated for G's.
Biography
Alright STOP. Collaborate an' LIS-en. Remember when hip hop Talked About Sex? When you could Bust a Move, Shake the Rump, do the Humpty and no one was poppin' caps? When Bell Biv Devoe called all y'all tricks "Poison" and warned all the fellas to "never trust a big butt & a smiiiiiiile"? We do Too. We'll drink up all the Hennessey you got on yo' shelf, so just let us introduce ourselves…
There is simply no band anywhere like the Too White Crew. It is a tribute to the golden era of hip hop, featuring all-live 80's and 90's covers (no tracks) from a six piece band, accompanied by choreographed "Fly Girl" dancers. On bigger stages we bring our Bra$$ Funkeez horn section, bboys, our Extremely Worthless Posse, live painters, empty shoe boxes, broken projection TV's, you name it. It's a party band…it's a show…it's art…it's madness on stage — all packaged in an unprecedented way. TWC has opened for countless hip hop & pop legends and is the only band in the past decade to perform at the Playboy Mansion. Too White Crew's nationally-touring show is also one of the top-requested festival acts.
Thinking of booking the Crew? Yes we do corporate shows, weddings, birthday parties, festivals — including all ages shows that are family friendly. For prospective bookings, please check out our "booking" link at www.toowhitecrew.com.
TWC is not responsible for injuries sustained from grown ups trying to do the worm, the running man or the Roger Rabbit. We're sorry for any inconvenience this may cause.